EUCP would like to invite you to join our final project event, online, during 4th – 6th May 2022!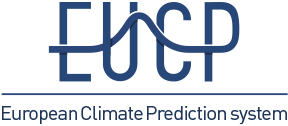 Th EUCP project partners look forward to sharing our programme of presentations and panel discussions showcasing the progress that the project has made towards:
Developing seamless climate prediction approaches
Extracting more information from ensembles of projections
Understanding and exploiting high resolution simulations of extremes
Register to join here.
EUCP Final meeting full programme – Download the programme here
Wed 4th May
8.45 BST

(9.45 CEST)

 

Teams session open
9.00 BST

(10.00 CEST)

30 mins

Overview of the EUCP project – Jason Lowe (Met Office)
9.30 BST

(10.30 CEST)

2 hrs (incl. 20 min break)

Session 1: Getting more from ensemble climate projections for future regional climates (Session chairs: Ben Booth and Chris Goddard)

 

Constraining regional projections: Why we do it, what we have learnt and where do we take this next? – Ben Booth (Met Office) – 20mins

 

Constrained European projections in CMIP5 and CMIP6 – Lukas Brunner (ETHZ) – 15 mins

 

Do constraints add value? Quantifying skill using out-of-sample assessments – Chris O'Reilly (University of Oxford/University of Reading) – 15 mins

 

Estimating the impacts of climate change for European river basins using performance-based model weighting – Frederiek Sperna Weiland (Deltares) – 15 mins

 

(20 min tea break)

 

Storylines across EUCP – Chris Goddard (Met Office) – 20 mins

 

Event-based storylines:  the heavy convective rainfall event in Copenhagen, 2011 – Dominic Matte (UCPH) – 15 mins

11.30 BST

(12.30 CEST)

30 mins

Session 1 Panel discussion

Can we offer improved regional information for Europe through constrained projection ranges? Can storylines approaches be 'scaled up' to meet the needs of a wide range of users?

 

Chair: Ben Booth (Met Office) Panel Members: Frederiek Sperna Weiland (Deltares)/Peter Greve (ISASA), Fai Fung (Met Office), Karin van der Wiel (KNMI)

 
Event Photo for Everybody!
12.05 BST

(13.05 CEST)

20mins


EUCP products – data catalogue and storyboards

Peter Kalverla, Netherlands eScience Centre


12:25 BST

(13.25 CEST)

Lunch and Ice breaker
Thurs 5th May
8.45 BST

(9.45 CEST)

Teams session open
9.00 BST

(10.00 CEST)

55 mins

Session 2: Improvements in decadal forecasting (Session chairs: Paco Doblas-Reyes and Panos Athanasiadis)

 

Forecast quality assessment of multi-model decadal predictions – Carlos Delgado (BSC) – 10 mins

 

Recommendations for future development of decadal prediction system – Panos Athanasiadis (CMCC) – 10 mins

 

Decadal predictability and prediction: the need for improved understanding – Doug Smith (Met Office) – 20 mins

 

Applications of decadal predictions from C3S_34c and EUCP – Julia Lockwood (Met Office) – 15 mins

9.55 BST

(10.55 CEST)

20 mins

Break
10.15 BST

(11.15 CEST)

50 mins

Session 3: Temporal Merging across prediction and projection timescales (Session chairs: Antje Weisheimer and Dan Befort)

 

Towards consistent observational constraints on predictions and projections – Gabi Hegerl (University of Edinburgh) – 20 mins

 

Combination of decadal predictions and climate projections in time: challenges and potential solutions – Dan Befort (University of Oxford) – 15 mins

 

Constraining climate projections with decadal predictions to obtain seamless climate information for the next several decades and improve the accuracy of near-term climate change estimates – Markus Donat (BSC) – 15 mins

11.05 BST

(12.05 CEST)

1hr 25 mins

Session 2 and 3 Extended Panel discussion

Do we need seamless predictions or do we need seamless information?

 

Chair: Gabi Hegerl (U Edinburgh) Panel Members: Antje Weisheimer (U Oxford), Francisco Doblas-Reyes (BSC), Panos Athanasiadis (CMCC), Doug Smith (Met Office), Wolfgang Mueller (MPI)

12.30 BST

(13.30 CEST)

1hr

Lunch break and ice breaker
13.30 – 15:00 BST

(14.30 – 16.00 CEST)

1hr 30 mins

Poster session

Opportunity for informal discussion and posters in online wonder.me session.

Posters will be available for browsing throughout the event, with Jamboards to gather any comments/questions throughout the meeting.
Fri 6th May
8.45 BST

(9.45 CEST)

Teams session open
9.00 BST

(10.00 CEST)

2 hrs (incl. 20 min break)

Session 4: Convection permitting simulations for Europe and their application (Session chairs: Danijel Belusic and Carol McSweeney)

 

What do we learn from the FPS ALP-3 multi-model CP-RCM experiment? – Nikolina Ban (ETHZ/UIBK) – 20 mins

 

Future changes in high impact events in convection-permitting models and next steps – Lizzie Kendon (Met Office) – 20 mins

 

Added value of high-resolution climate models, and how to blend their information with coarse resolution climate model results.

– Geert Lenderink (KNMI) – 15 mins

 

Convection in future winter storms over northern Europe – Segolene Berthou (Met Office) – 15 mins

 

(20 min break)

 

Alpine flood impacts based on convection permitting projections – Marjanne Zander (Deltares) – 15 mins

 

Convective permitting simulations for European Outermost Regions – Hylke de Vries (KNMI) – 15 mins

11.00 BST

(12.00 CEST)

30 mins

Session 4 Panel discussion

How do we get the most value from high resolution projection information?

 

Chair: Filippo Giorgi (ICTP) Panel Members: Albrecht Weerts (Deltares), Lizzie Kendon (Met Office), Geert Lenderink (KNMI), Nikolina Ban (ETHZ/UIBK), Andreas Prein (UCAR)

11.30 BST

(12.30 CEST)

15 mins

Feedback from final EUCP Multi-User Forum event – Jens Christensen (NBI)
11.45 BST

(12.45 CEST)

45 mins

Final Panel discussion with final remarks

 

Where next for European climate prediction information?

 

Chair: Chris Hewitt (Met Office) Panel Members: Jason Lowe (Met Office), Francisco Doblas-Reyes (BSC), Richard Tavares (EC project officer), Freja Vamborg (C3S)

13.00 – 14.00 BST

(14.00 – 15.00 CEST)

EUCP Social – QUIZ!

Bring along your lunch or coffee for a chance to relax a little with EUCP colleagues
EUCP final Event Poster Session
Thursday 5th May, 13.30-15:00 BST (14.30-16.00 CEST)
Join here: online wonder.me
View Posters throughout the meeting on this page (Please register for the event to receive the password)
Poster Session Part 1 (13.30-14.10 BST, 14.30-15.10 CEST)
| | | | |
| --- | --- | --- | --- |
| 1 | Christine McKenna | University of Leeds | The role of the North Atlantic Oscillation for projections of winter mean precipitation in Europe |
| 2 | Marianna Adinolfi (speaker/presenter), Mario Raffa and Paola Mercogliano | CMCC | Achievements through the use of convection permitting climate simulations over different domains run from CMCC in the context of the EUCP project |
| 3 | Dragana Bojovic and Eulàlia Baulenas | Barcelona Supercomputing Center | Usability of EUCP service products for end users |
| 4 | Dario Nicolì | CMCC | Predicting Climate Change over the multi-annual range: a perspective from CMCC Decadal Prediction System |
| 5 | Dominic Matte | Ouranos | The role of global warming on a cloudburst event depicted with a convective permitting ensemble forecast model |
| 6 | Èrica Martínez-Solanas | ISGlobal | Projections of temperature-attributable mortality in Europe: a time series analysis in 147 contiguous regions in 16 countries |
Poster Session Part 2 (14.20-15.00 BST, 15.20-16.00 CEST)
1
Marcos Quijal-Zamorano
ISGlobal
Forecast of temperature-attributable mortality at lead times of up to 15 days for a very large ensemble of European regions
2
Josep Cos
Barcelona Supercomputing Center
CMIP5 and CMIP6 projected Mediterranean climate change hotspots and the consequences of weighting by performance and independence
3
Balakrishnan Solaraju-Murali et al
Barcelona Supercomputing Center
Multi-annual prediction of drought and heat stress to support decision making in the wheat sector
4
Bo Christiansen
Danish Meteorological Institute
Estimating the significance of the added skill from initializations
5
Ben Booth
Met Office Hadley Centre
Prototyping probabilistic projections for Europe
6
Ahmed Abdelnour, Frederiek Sperna Weiland, Albrecht Weerts and Remko Uijlenhoet
TU Delft / Deltares
Bias-correction and Weighting of EURO-CORDEX Climate Simulations to Assess Climate Change Impacts in the Rhine River
7
Sebastian K. Müller
Earth System Physics, ICTP
The Climate Change Response of Heavy Precipitation Events in the Alps and in the Mediterranean