Calling users of European climate predictions and projections…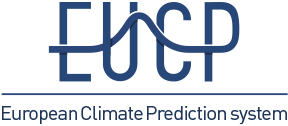 Please join our final project user event on 3rd May 2022, 13:00 – 16:00 (CEST) to hear more about the user-relevant research outcomes and products generated in EUCP. During this half day event we'll match the questions our Forum users have posed to us during our engagements through the project with relevant research and products from EUCP and beyond, helping users address some of the common challenges of using climate predictions and projections.
Want to read more about EUCP outcomes for users? See our online storyboards, designed to demonstrate a range of topics explored in EUCP in an accessible format.
Agenda

Welcome and introduction (10 mins)

Claas Teichmann and Jason Lowe

Session 1: What's new? (20 mins)

Recap from last workshop with updates on data catalogue and storylines
Peter Kalverla and Fai Fung/Chris Goddard

Session 2: EUCP at your service (60 mins)

EUCP scientists are at your disposal to address your questions. Based on your previous input we have prepared answers and examples. Subsequently, the floor is open for discussion.
We have divided your questions in breakout groups centering around two hot topics.

A. How reliable is our climate change information? And how to cope with that?

e.g. "Can weighting ensemble members according to their performance help to give a better uncertainty range?"
"How could I identify plausible worst case or best case outcomes?"

B. How to manage/reduce the complexity of the available climate information?

e.g. "How should I choose appropriate ensemble members?"
"Should I consider using a storylines approach?"

Wrap up from breakout sessions (10 mins)
Break (15 mins)
Session 3: Beyond EUCP (40 mins)

We have forwarded your questions and use cases to various organizations and follow-up projects.
Representatives from NextGEMS, Climateurope2, C3S and national climate centres will present their input and subsequently we'll open the floor again for a plenary discussion.

How to collaborate in the future? (10 mins)

We want to take a few minutes to collect your experiences on co-production and identify opportunities for future projects.

Closure (10 mins)

Claas Teichmann and Jason Lowe